By Laurie Welch (lwelch@magicvalley.com) March 7, 2019
BURLEY — Companies across the Magic Valley and the state are hoping to find some relief from labor shortages by expanding apprenticeship programs.
In the Magic Valley, unemployment rates have remained under 3 percent for nearly two years, incentivizing some companies to recruit potential employees by offering apprenticeships.
The practice of learning a trade at a business owner's knee waned during times when jobs were scarce since businesses had their pick of qualified employees. Now, workers have a plethora of jobs to choose from, forcing employers to lean toward on-the-job training to help fill open positions.
Mini-Cassia's Student to Registered Apprentice Program (STRAP) is one of just 10 programs like it in Idaho, and the only one of its kind in the Magic Valley. But as it nears the end of its first two-year term, other apprenticeship opportunities for adults are emerging across the state.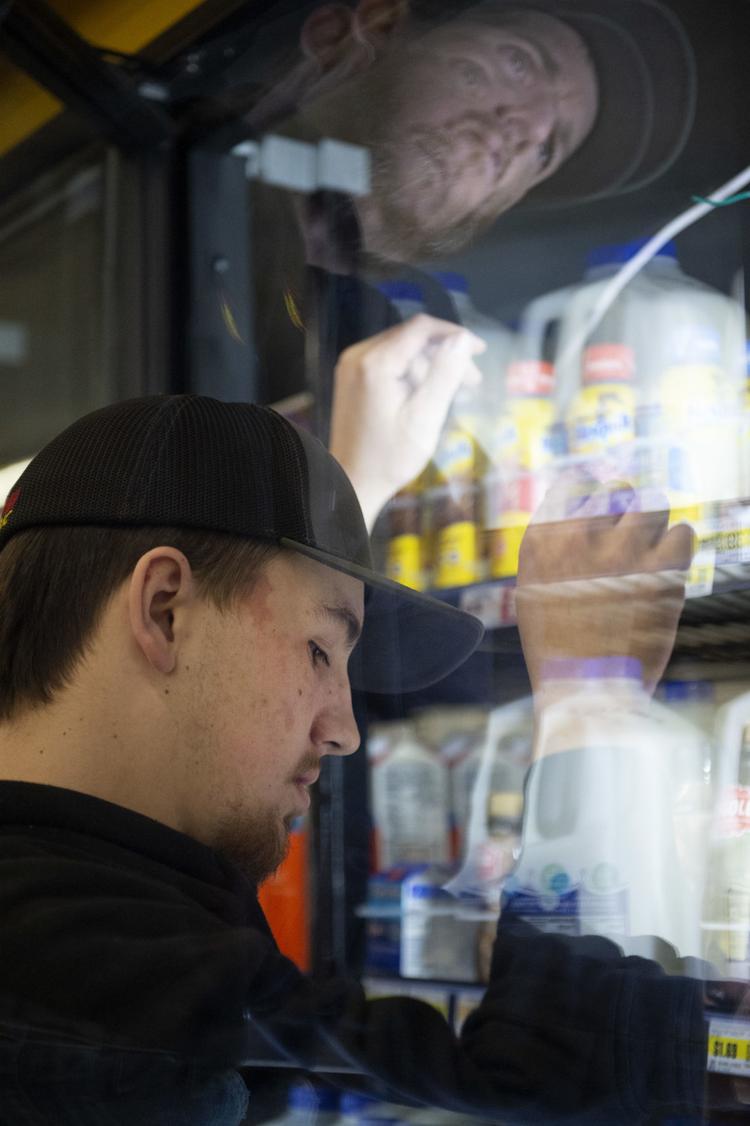 The high school program launched in November 2017. Participating companies including Fabri-Kal, McCain Foods and High Desert Milk, along with the Idaho Department of Labor. School districts in Minidoka County and Cassia County developed its curriculum.
For 18-year-old Jaime Alamillo Jr., who graduated from Minico High School in May, the initiative led to a full-time job at High Desert Milk in Burley.
Alamillo is in the second year of his apprenticeship, and after an initial internship last summer at High Desert Milk, the company hired him on as a permanent employee floating across different departments as needed.
"When I was a junior in high school, I wanted to be an equine veterinarian," Alamillo said.
Much to his dismay, his interest in the profession evaporated, leaving him confused about what career would suit him.
"When they first introduced the apprenticeship program, it really caught my attention," Alamillo said. "I thought I could get paid quite a bit and still go to college part-time. It will really help me to pay for tuition."
He plans to continue living at home while working and attending college as he ponders his future.
"There is a little pressure on me to keep up because I'm the youngest full-time employee there," he said. "But it's definitely been worth it."
Alamillo's father — Jaime Alamillo ─ owns a concrete and construction company. He is pleased his son was given the opportunity.
"I think it's good for him," Alamillo said.
He was surprised High Desert Milk hired his son as a full-time employee before he finished the second year of the class.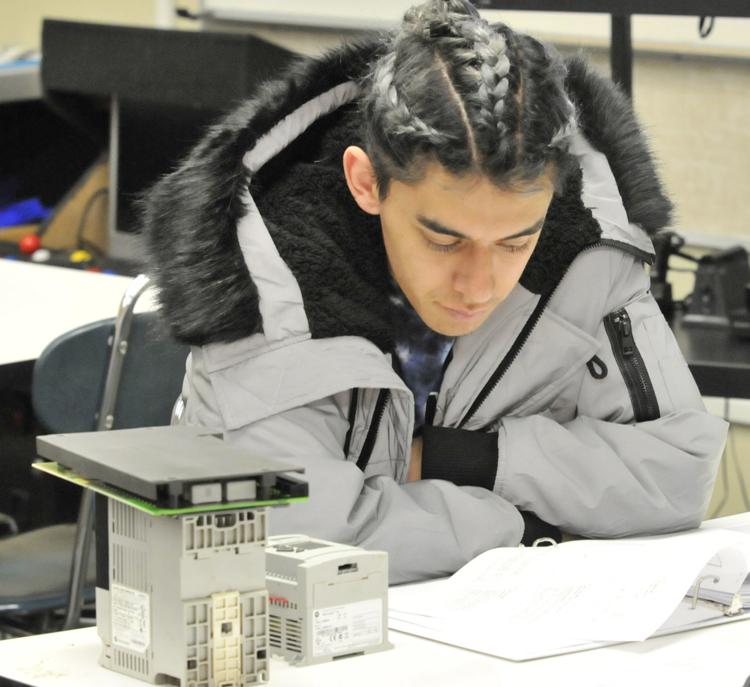 Alamillo's father is a hard worker; he wants his son to put forth the effort to succeed in whatever career he chooses.
"I really hope he continues to do a good job for them," he said.
Apprentice trades on the rise
Apprenticeships have been used for centuries as a way for families to pass trades and skills on from generation to generation. In 1937, Congress passed the National Apprenticeship Law, or Fitzgerald Act, that regulates on-the-job training programs, but the concept is not new, said John Russ, area manager for the Workforce Field Division with the Idaho Department of Labor.
"Apprenticeships are really nothing more than an old idea being re-discovered for a new economy," he said.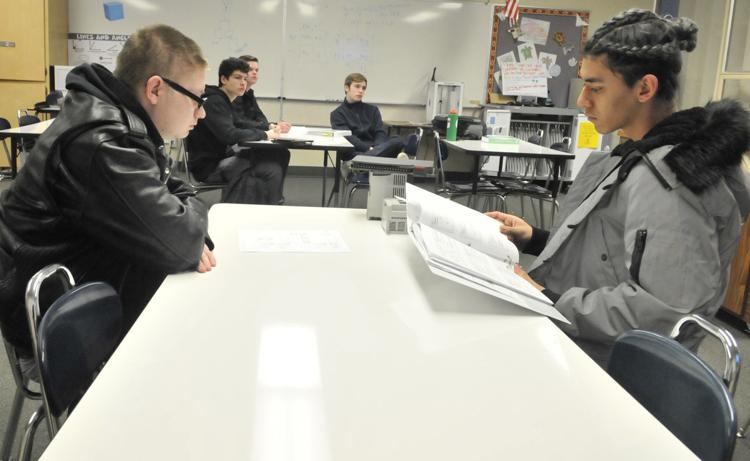 Most people associate apprentice trades with the electrician profession or carpentry, he said.
"They don't think of a medical assistant, nurse or computer programmer as apprentice trades, but they are," he said.
More than 1,000 registered apprentice trades exist nationally. In Idaho, technical apprenticeship opportunities such as being a medical assistant are more common in the Treasure Valley, according to an Idaho Department of Labor's chart listing apprenticeship jobs throughout the state. Many haven't trickled into the Magic Valley yet.
Overall, much of the apprentice growth in the state is occurring in the more technical fields like programming and web development, Russ said.
Technology trades, health care, energy and advanced manufacturing are the top areas of focus for the state, mainly because they are high demand occupations, he said.
In November 2016, there were 100 Idaho companies participating in registered apprentice programs. By the end of December, that number had grown to 265.
The increase means more companies are willing to give apprenticeship programs a try, Russ said.
A company that wants to participate in the program starts by contacting the Idaho Department of Labor to initiate the process. The department provides the service for free.
Companies hiring students
Although 15 students signed up the first year of the STRAP program, the number of pupils still attending the class by the second year dwindled to five, instructor J Wing said, who previously taught apprenticeship programs at the College of Southern Idaho.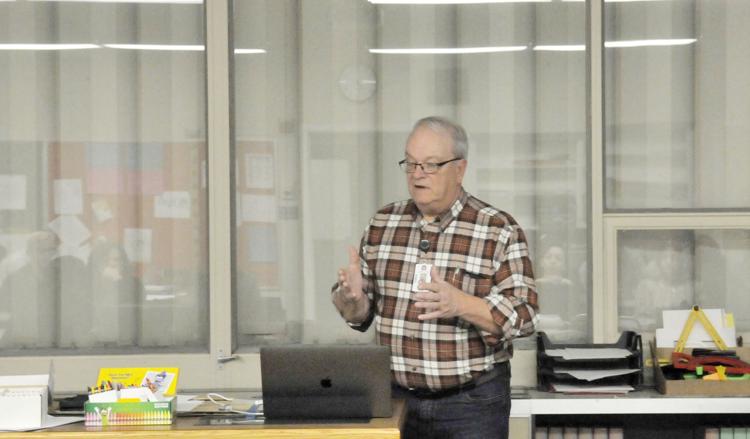 This year, 14 students enrolled the first year of the two-year program, and one student recently dropped out.
Students are held to strict attendance policies and they demonstrate a commitment to the program by attending the early class and then traveling back to their high school before the morning bell, Wing said.
The program requires 150 hours of class time in total and 2,000 hours of on-the-job training at one of the companies.
"Our students are here by choice and it's run like an adult class," Wing said. At the end of the first year, enrollees prepare a résumé to interview for a summer job.
Class time is focused heavily on safety, along with soft job skills, such as punctuality, communication and a good work ethic, key characteristics for good employees, Wing said.
"They learn things like making sure they have a lunch with them, or snacks and something to drink to stay hydrated, how to be on time, and to call in if they will be absent," he said.
Wages for the students during the on-the-job training vary, but start at $10 to $15 per hour.
After the students complete the class and on-the-job training hours, they receive a federal machine operator's certification.
The certification is recognized by the industry nationwide, allowing apprentices to apply for jobs across the country — their training and hours completed are acceptable and transferable to other states.
"These students come out of the classroom more highly trained than anyone the companies would hire off the streets," Wing said. "And they have already demonstrated a commitment to the job."
Once the students step into the plant, they are assigned mentors who continue to train them.
The businesses are given waivers through the registered program that authorize them to allow 16-year-olds to work in potentially hazardous areas.
Apprenticeship programs for high school students are currently "uncommon" in the state, said Russ, who oversees the registered apprenticeship programs across the state. "But we are trying to change that."
Other states across the nation have been successful, he said, and the program is gaining momentum.
"Before schools didn't know how to use it, and businesses were afraid of bringing in 16-year-olds, Russ said.
The increased interest could indicate a significant trend in the state.
Idaho Department of Labor Workforce Consultant Chet Jeppesen said conversations about new high school and adult apprenticeship programs occur daily across Magic Valley.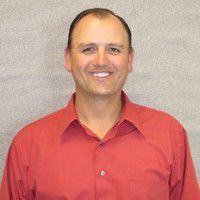 For example, a high school industrial maintenance apprenticeship class is under development at Minico High School.
Other programs in the works in the Magic Valley include a wastewater treatment program and mill operator's program. The department is also working with the College of Southern Idaho to develop a welding program, Jeppesen said.
There is so much interest in the student machine operator class that it could become a challenge to find companies willing to place all of the students in the future.
Cassia Regional Technical Center Director Curtis Richins represents Cassia County School District in the partnership. "The program is funded through an Idaho Department of Labor grant and sponsorships by participating companies, along with the two school districts," he said. The $248,000 grant for the program expires in November, but there is an opportunity to apply for a 12-month extension, he said.
The program committee will need to seek other funding to keep the program going afterward.
"We are really encouraging other businesses to step up and help build our workforce," Jeppesen said.
Students on the job
Minico High School's Jebidiah Breeding, 19, a second-year machine operator apprentice student, immediately knew he wanted to participate when he heard about the class.
"It was a chance to get started after high school and have more options," Breeding said.
He was hired over the summer at High Desert Milk for $12.50 per hour with pay raises at predetermined benchmarks.
Breeding said his first day on the job was demanding. "But I just tried to work as hard and fast as everyone else."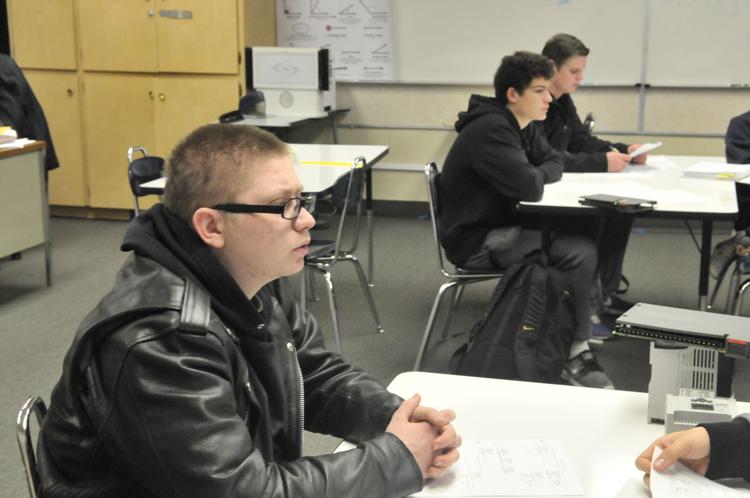 He began in the sanitation department, moved into powdered packaging and found he enjoyed driving a forklift.
He hasn't decided yet if he wants to continue his education or take a full-time job at a plant.
"I know I do well at plants and it is good money," Breeding said. "When I'm on a Hyster (a brand of forklift), I'm a happy guy for the full 12 hours. I could see myself doing that until retirement."
Declo student Luke Delavoye, 17, was hired part-time by High Desert Milk after last summer's apprenticeship.
"It's been worth the time I've put into it," he said.
Delavoye plans to work this summer at the company and then go on a mission for his church. Later, he wants to attend college to study architectural engineering.
Traver Larson, 18, and Caden Crider, 17— both second-year students in the program from Declo — also have college plans after graduation.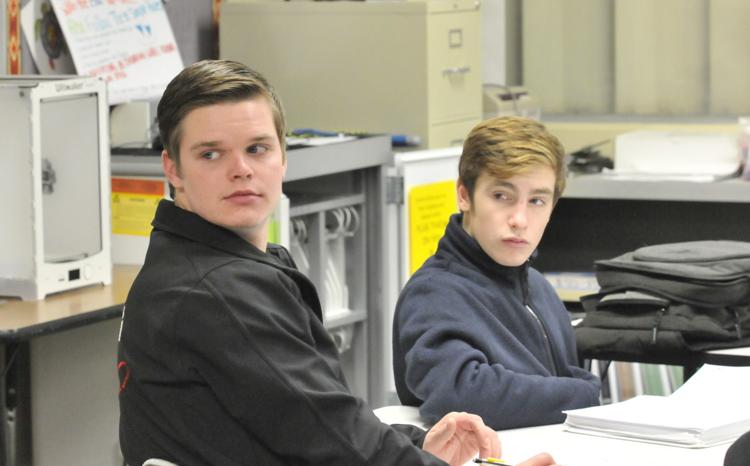 Both were hired at McCain, which produces and packages frozen french fries and hash browns, during their summer internship. By the end of the summer, they topped out at over $16 per hour in pay.
In Idaho, according to the Idaho Department of Labor website, a person making $16 per hour — or $33,280 per year — makes more than people with starting wages in several professions, including the following: architectural and civil drafters who earn $30,740; web developers at $27,840; child, family and school social workers, at $25,490; and entry-level elementary school teachers, who bring home $30,328.
Larson will attend Idaho State University's nursing program and return home each summer to work for the company and help pay for college.
Crider wants to go on a church mission and then go to college for automotive engineering.
One of the best benefits of the job, Crider said, is having a full-time job with the company later on if he ever needs it.
Entering the employee pool with a company at such a young age also means plenty of time to climb the corporate ladder, if he so chooses.
Larson also said it is comforting to know he could return to the plant if other career paths don't pan out.
"I wouldn't mind working there for a couple of years, or even for a lifetime," he said.
Larson and Crider both ran product lines during the summer for the company.
Crider expected much of his work to be at a computer. Instead, both he and Larson became line operators, which meant running up and down the lines to ensure a smooth production process during their 12-hour shifts.
Larson was surprised, he said, when people treated him just like any other employee and not "a high school kid."
During the first couple of days, he noticed an employee forget to put the code on a line of product, which could have resulted in a critical mistake.
"It scared me, and I realized if I didn't do something right it could cost the company thousands of dollars," he said. This was a pivotal learning experience for him.
But he also felt a sense of pride doing a good job for the company.
Mentored by others
Karla Robinson, controller at High Desert Milk, said the company is pleased with how the program is working out.
"It's been a learning experience for us as well," she said.
Having teens on the work floor means extra vigilance on the part of the workers, including an investment in time and energy when the milk plant assigns employees as mentors.
"Our company will definitely continue on with it because we have put so much time and energy into it already," Robinson said. "It takes a lot of work on our part because we have to have a mentor with them all the time because of their age."
It's worth the investment though, she said, not only because the company needs to keep jobs filled, but also because the company is dedicated to supporting continuing education, which is a component of the apprenticeship program.
Part of this is related to employee attrition. "We want to keep the young people who want to stay in the area here, instead of seeing them seek jobs elsewhere," she said. "We've found that when we bring people in from other areas, they often want to move back home to be closer to their family."
It also gives the students a chance to learn about other good viable opportunities available within the company, she said.
High Desert Milk makes schedule accommodations for students enrolled in college classes, which is encouraged.
"We try to stay in touch with them to make sure they will be successful and not get discouraged," she said. "It's been a good experience for us to watch them grow," Robinson said.
Company officials are impressed by apprenticeship participants who attend classes at 7 a.m. all year, especially since students can be cut from the program after just three absences.
"Those are the kind of employees we need here," she said.
Adult apprenticeship ─ a way to shift careers or move up
Somewhere along the line, people formed a general consensus that in order to succeed in the workplace, getting a degree had to come first.
But 90 percent of top officials in construction companies who participated in a survey conducted by the Associated General Contractors of America began their careers as apprentices, according to the U.S. Department of Labor.
College, Russ said, is not for everyone, and apprenticeship programs have a component of continuing education built into them.
Often, a divide occurs when new graduates discover they can't land jobs in their field, he said.
"We have people spending thousands of dollars on college degrees and still not finding jobs," he said.
One young woman Russ knows spent four years earning a public health degree, but could not access a job market for her skills after graduation.
The problem occurs when academic settings do not mirror the reality of the workplace, he said. "That's where people are struggling," Russ said. Adults who enter an apprenticeship program may already have a degree, while others may have a family to support, or they may not have enough money to pay for college. Apprenticeship offers another avenue to move ahead in a career, Russ said.
An apprenticeship can lead to a good job, with rewarding pay, Chet Jeppesen agreed.
As an electrician or industrial maintenance journeyman, a former apprentice can earn $50,000 to $60,000 a year and have no education debt, he said.
Newly married Bryson Jeppesen — Chet Jeppesen's son — opted for an apprentice electrician position for Cameron Electric instead of pursuing a college degree.
It seemed like the perfect fit.
Before taking the apprenticeship job, Bryson Jeppesen spent a year and a half working at a hardware store and a few months rebuilding trucks for a company.
Pay for the job started at $14 per hour and he takes his classes online through CSI.
"One of the things I really like about being an electrician is the wages," he said. "And I know I'll always be able to find a job anywhere in the country in the electrical field."
Although it will require about 4,000 hours of class time and 8,000 hours of work under a journeyman electrician, all the time will be spent in his area of specialty.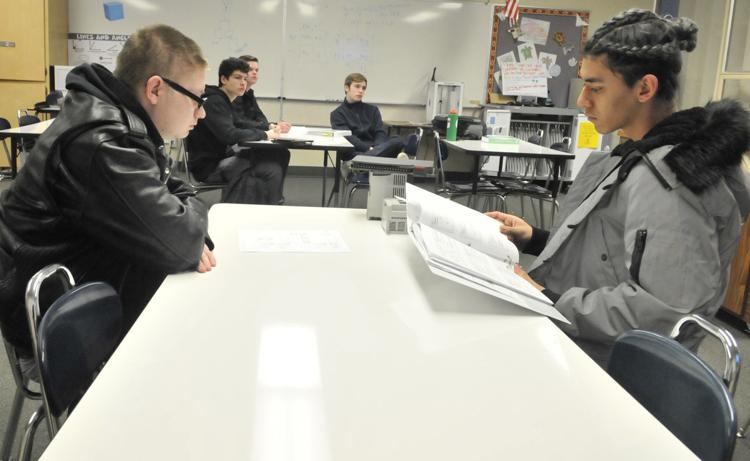 It can be challenging to hire journeyman electricians, so apprenticeships offer a way to train an interested person, and then hope they stay at the company for 25 years, he said.
Jeppesen started his new job in November, the same month he got married.
"I didn't want to go to school and study things like history," he said. "I enjoy working with my hands and I never wanted a desk job."
For employees, apprenticeship offers a way to master skills through class time and on-the-job training, and it gives workers a way to earn while they learn, Russ said. It also provides them the assurance of a future with a good standard of living because they are gaining skills that are in demand.
Most companies know the value of retaining the employees they hire. They have made an investment in them and they want them to succeed — which also benefits the apprentice — he said.
Some companies offering apprenticeships will pay for college classes, and some even pay their employees to attend classes or offer a way for the employees to take classes online, Russ said.
Benefits for the industry include competent workers who adapt quickly to changing needs, lower employee turnover costs and lower starting wages for apprentice employees, who gradually earn increases in wages.
The required length of time for apprenticeship training ranges from one to six years, depending on the specific trade, while the majority of programs require three to four years of work and study to complete.
On the national level, companies that utilize apprenticeship programs retain 80 percent of their employees, but those statistics are not available for Idaho.
There are many reasons people leave jobs, Russ said, including desiring a pay increase, not being familiar with the expectations of the company going into the job, or simply seeing the program as a dead end.
In contrast, apprentices understand what is expected of them upon entering a job, and what wages they will make if they meet certain standards.
Although salaries vary from industry to industry, the average apprentice starting wage is about 40 to 50 percent of a journey worker's pay rate, according to the U.S. Department of Labor.
When a person with a degree is hired, he or she may or may not be qualified for the job, he said. An apprentice is specifically trained for it.
"Apprenticeships offer a future to my company," Ty Cameron, owner of Cameron Electric, said.
Will apprenticeships close the job gap?
Whether apprenticeships will help close the job gap created by the low unemployment rate across the state is yet to be seen.
"The program would have to grow a lot at this point to make much of an impact," Robinson said. "But it has to start somewhere."
Industry in the Magic Valley just keeps expanding, which fuels the low unemployment rate, she said.
Other factors including the lack of available housing in the Magic Valley also contribute to unfilled positions at companies, she said.
Russ said he doesn't think apprenticeships will completely fix the job gap, but they could play a role.
"I don't think it will relieve all of it, but it will relieve some," he said. "It provides another avenue that is typically not available."
For people who are unemployed, underemployed or undereducated for a position, apprenticeship offers them an opportunity to move forward, he said.
"Employers see the value of having input in developing the standards for the education and on-the-job training for a position," Russ said. "For employees, apprenticeships provide the pipelines to those opportunities."
"I think apprenticeships are really important," Cameron said. "They help bridge that gap in the workforce."
Ninety percent of top officials in construction companies who participated in a survey conducted by the Associated General Contractors of America began their careers as apprentices, according to the U.S. Department of Labor.